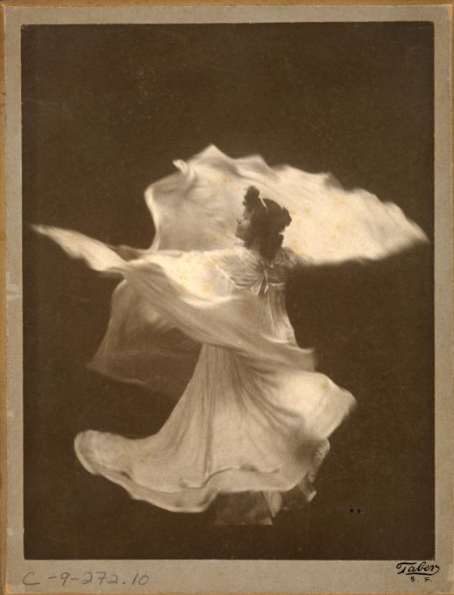 Because I wanted Radiant- The Dancer, The Scientist and a Friendship Forged in Light to read like a novel, I decided to forgo footnotes and place my sources in an extensive bibliography at the end of the book. To make it easier to locate primary documents specifically related to interactions between Marie Curie and Loïe Fuller, I put together this list of sources I used to document their meetings.
In Ève Curie's biography of her mother Madame Curie, Ève devotes p. 232 to Loïe Fuller. She writes about Loïe Fuller's letters to her parents and details the dancer's performance in the narrow dining room at their house on Boulevard Kellerman, which was followed by later performances and reciprocal visits by the Curies to Loïe's home. Ève goes on to describe how Loïe introduced them to August Rodin, and says that a "picturesque friendship untied her to the two physicists."
Loïe Fuller's autobiography Fifteen Years of a Dancer's Life (Chapter XI- A Visit at Rodin's) contains a detailed description of Loïe taking Marie and Pierre to visit August Rodin's studio in Meudon in April of 1902.
In her "Lecture on Radium," in the New York Public Library of Performing Arts, Loïe Fuller writes about the Curies and other professors from the Sorbonne visiting her workshop and studio, before attending a seance "lasting far into the night." Loïe writes that the event was documented by the London Daily Telegraph, in a column headed "Loïe Fuller's Radium Dance", which gave "a long description of what had taken place." American versions of the article can be found in several newspapers, including the Buffalo Commercial, March 14, 1904, p.11, the St. Louis Post Dispatch, April 6, 1904 (from the New York Times) and the Los Angeles Herald, Number 216, May 1, 1904.
Loïe's "Lecture on Radium" mentions Marie extensively and includes a description of how Loïe held a tube containing highly purified radium salts up to her closed eye, which almost certainly took place at the Curie laboratory. At that time, few people in Paris other than the Curies had access to purified radium.
Loïe Fuller's essay "Dance Ultraviolet" includes a description of her visit to Pierre Curie's Lab shortly before his death, where he showed her his "high frequency electric machine" and a 60 amp 220V ultraviolet projector, demonstrated how it worked, and gave her some of the powder he'd illuminated using the light.
Susan Quinn's biography Marie Curie, quotes a letter from Loïe to Marie following the scandal caused by Marie's affair with a colleague that states, "I love you, I take your two hands in mine and I love you. Pay no attention to the lies. C'est la vie." (Nov. 24, 1911, Ecole de Physique et Chimie)
Page 183 of Richard and Marcia Current's biography "Loïe Fuller, Goddess of Light" contains a photograph of a letter (from Musée Rodin) from Loïe to August Rodin, setting up a date and time for her and Marie Curie to come to his studio on rue de l'Université.
The New York Public Library of Performing Arts (NYPL PA)also contains two letters from Loïe Fuller to Marie Curie from August 12, 1924 and Dec. 31, 1924. The December letter refers to a recent visit between Loïe and Marie and asks about an impending social engagement between the two women, inquiring whether Loïe should come to the Radium Institute or Marie's home.
In the Currents' Biography Loïe Fuller, they quote a letter written by Loïe to Marie after Loïe had invited Marie and Ève to lunch, where Ève had played piano for the dancer. The letter, from the Curie manuscripts at Bibliothèque nationale de France, says, "I love you very much, & your little girl has walked & played herself right into my heart." A series of letters between Ève and Loie at the NYPL PA documents the piano lessons Loïe set up for Ève with French composer Gabriel Pierné, and the American tour she attempted to organize for Marie's daughter.
Newspaper articles about Marie and Loïe include mentions of their friendship in the Oct 23, 1907 issue of L'Aurore and in the Paris-midi of May 1, 1925 (gallica.bnf.fr), which roughly translated, states:
Yesterday was spotted, sitting in a dressing room at the theatre of Champs-Élysées, a woman who wears one of the biggest names in French science : Ms. Curie had come to see the wonderful creations of Loïe Fuller. It is likely that Ms. Curie was attending for the first time a music-hall spectacle.